7 YKVN Partners Included in Asia Business Law's A-List | Vietnam's Top 100 Lawyers 2022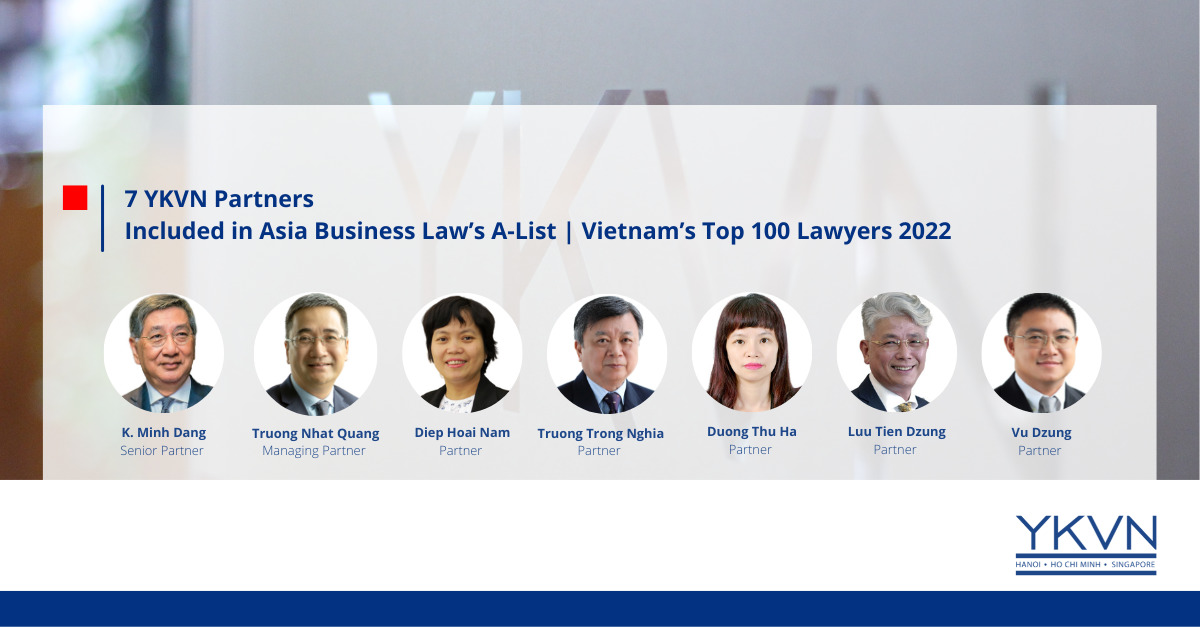 The Asia Business Law Journal named seven YKVN Partners among its A-list of the top performers of Vietnam's legal profession in 2022, including: Minh Dang, Truong Nhat Quang, Diep Hoai Nam, Truong Trong Nghia, Duong Thu Ha, Luu Tien Dzung, and Vu Dzung. The A-List is based on extensive research, nominations received from in-house counsel based in Vietnam and elsewhere, and Vietnam-focused partners at international law firms.
In its editorial report, Asia Business Law highlighted notably 2 YKVN Partners:
Managing Partner Truong Nhat Quang is described as "a leading banking and corporate lawyer in Vietnam and author of many legal treatises. Truong has made tremendous contributions to the Vietnam legal practice by authoring various excellent treatises on Vietnamese civil law and corporate law."
Senior Partner Minh Dang is praised for his long experience in Vietnam related legal issues. "On IPO matters, Dang Khai Minh, a Singapore-based senior partner at YKVN, has earned a good name for his top-class legal advice. He has 40 years of experience in a wide variety of international matters, focusing on Vietnam investments and disputes.
Client's testimonials also describe Minh Dang as "a prominent international arbitration lawyer. He acted for various state-owned and private entities in international disputes from oil and gas, energy, and construction to pharmaceutical."
View the full A-list and report here.