YKVN advises Bitexco Energy Ltd in its acquisition of all shares of Talisman (Vietnam 15-2/01) Ltd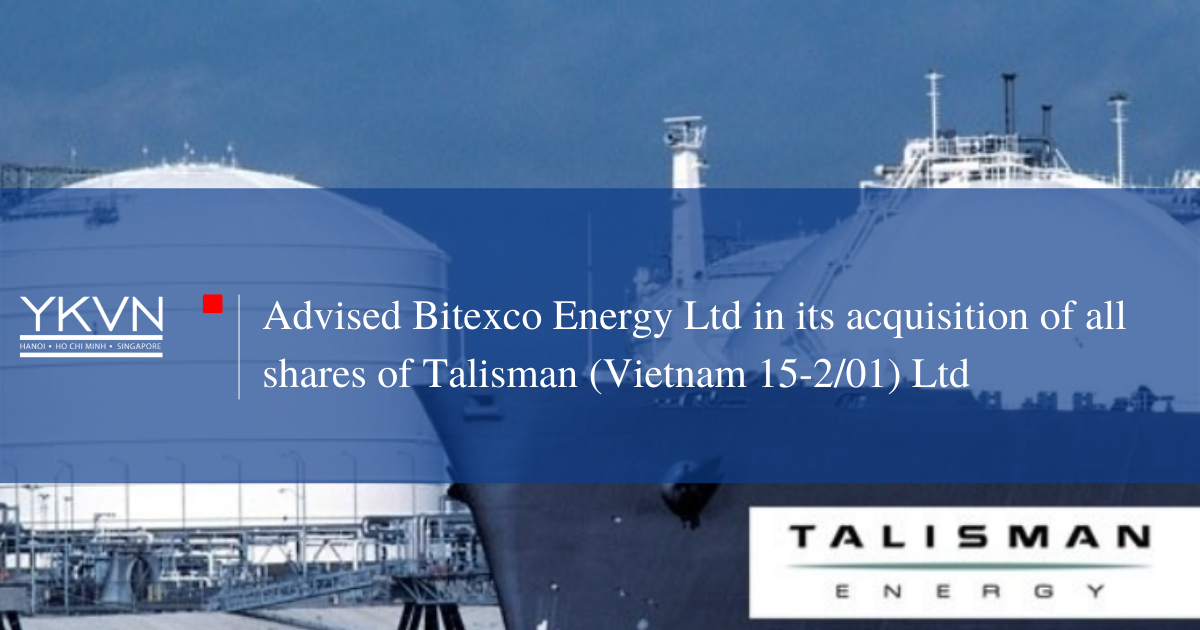 As publicly announced by Bitexco Group on August 20, Bitexco Energy Ltd. – a wholly-owned subsidiary of Bitexco – signed a share purchase agreement with Repsol Exploración SA to acquire all of Repsol's shares in Talisman (Vietnam 15-2/01) Ltd, a company incorporated in Canada.
The acquisition is expected to be completed by the end of the year when the necessary approvals from Vietnamese authorities are obtained.
YKVN represented Bitexco Energy Ltd in this landmark oil & gas transaction.
Our team was led by senior partner Minh Dang and partner Thang Pham. FASKEN (Huy Do) acted as Canadian counsel.
About Bitexco Energy
Bitexco Energy is part of Bitexco Group. The mission of Bitexco Energy is to contribute to the prosperity of Vietnam by developing clean energy projects, renewable energy with high responsibility for environmental protection. Launched in 2002, Bitexco Group has under its portfolio 21 electric energy projects, two oil and gas projects.
About Talisman (Vietnam 15-2/01)
Talisman (Vietnam 15-2/01) currently holds 60 per cent of the oil and gas exploitation contract for the Block 15-2/01 offshore platform of Thang Long JSC.