YKVN advised on 2 "ALB SE Asia 2022 Deal of the Year" transactions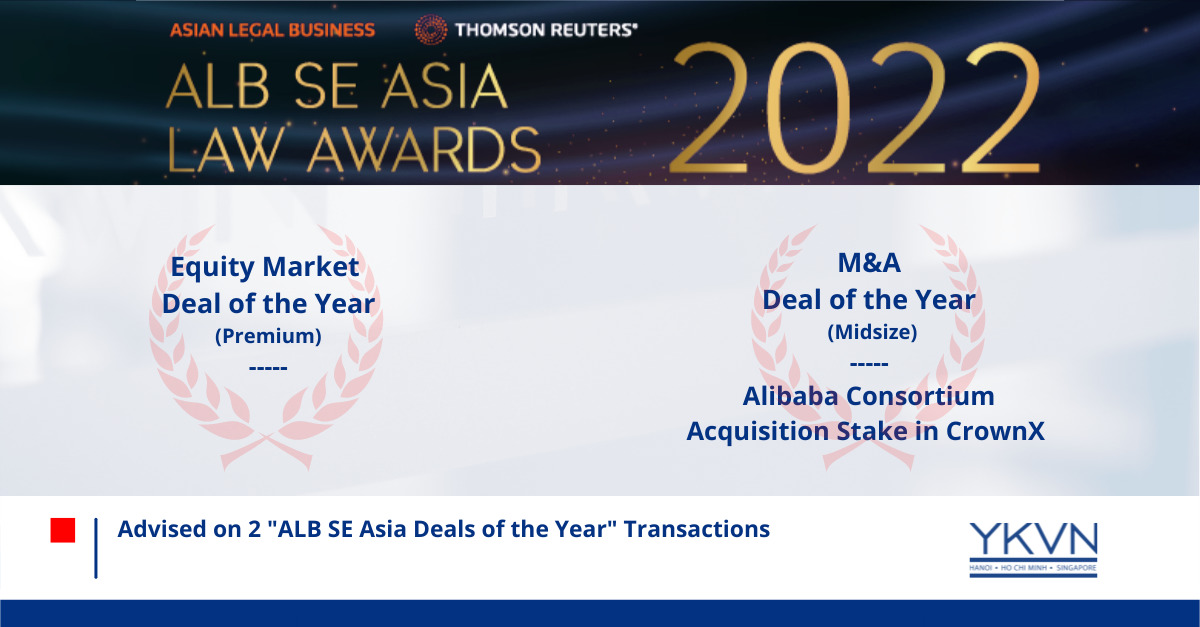 YKVN is delighted that we advised on 2 "ALB SE Asia 2022 Deal of the Year" transactions.
The Equity Market Deal of the Year (Premium)
YKVN was Vietnamese counsel to the issuer; our team was led by partner Le Thi Loc.
The M&A Deal of the Year (Midsize): The Alibaba Consortium Acquisition Stake in CrownX
YKVN (together with Milbank) advised Masan and Crown X on the deal.  Our team was led by partners Truong Nhat Quang and Nguyen Van Hai. 
The deal was also awarded by The Asset in 2021 as the best M&A Deal in Vietnam. This is the largest PE deal in Vietnam to date and is one of the largest M&A deals in Vietnam in 2021.
We congratulate all parties and counsels in these deals and thank ALB for the recognitions.
ABOUT THE 2022 ALB SE ASIA LAW AWARDS:
These prestigious awards are one of the most preeminent legal awards in Asia. They are held annually to honor the outstanding performance of private practitioners and in-house in the region. The awards recognize the accomplishments and efforts of law firm, in-house team, or other teams.  The 18th SE Asia Law Awards event was held in-person in late May 2022 in Singapore.  The full list of winning firms can be found here.