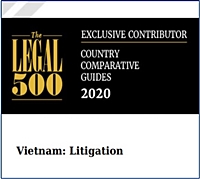 Vietnam Chapter | The Legal 500 Litigation Country Comparative Guide
Our Vietnam litigation practice has received widespread professional recognition in the region for the team's outstanding work. Our partners Truong Trong Nghia, Truong Nhat Quang, counsel Nguyen Hong Ha and associate Le Huynh Nhat Minh are pleased to have contributed to the Vietnam chapter of The Legal 500: Litigation Country Comparative Guides.
This country-specific Q&A provides an overview to litigation laws and regulations that may occur in Vietnam and is a part of The Legal 500 Country Comparative Guides 2020.