YKVN advised lead arranger

Vietcombank

in USD 1.5B syndicated financing for the

Hoa

Phat Dung Quat 2 Manufacturing Complex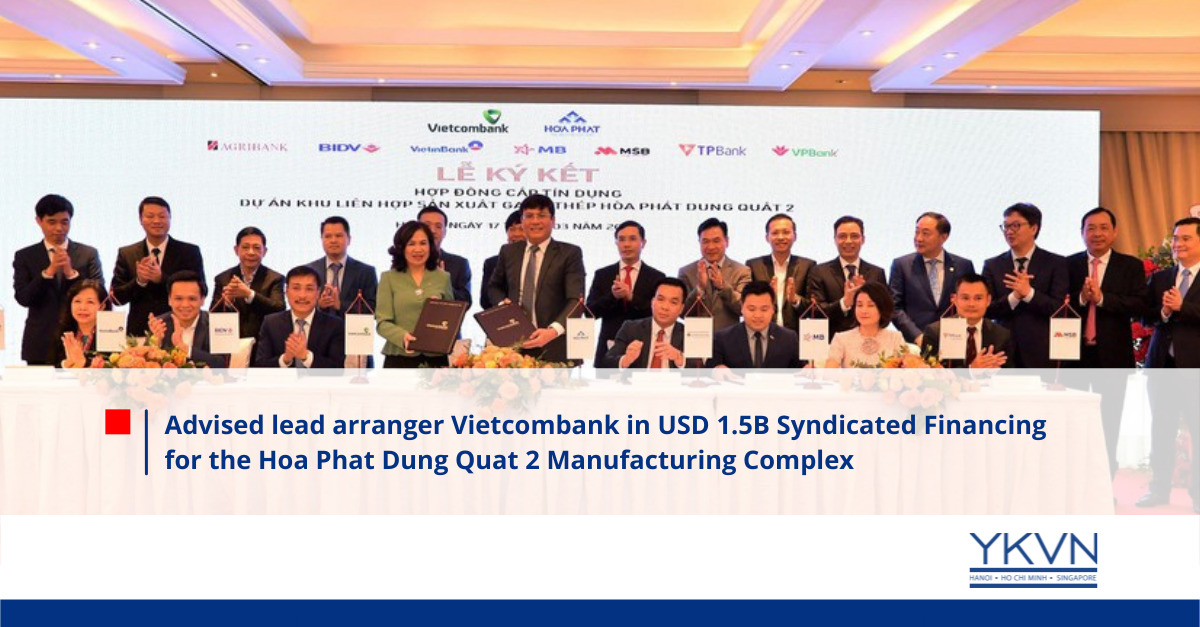 YKVN advised lead arranger Vietcombank (Joint Stock Commercial Bank for Foreign Trade of Vietnam) and seven leading Vietnamese commercial banks, in respect of a VND 35,000 billion (approximately USD 1.5 billion) syndicated financing for the development of Hoa Phat Dung Quat 2 Iron and Steel Manufacturing Complex.    
The YKVN team was led by Partners Duong Thu Ha and Vu Dieu Huyen.  
The Complex is to be developed by Hoa Phat Dung Quat Steel Joint Stock Company, a subsidiary of Hoa Phat Group JSC, the largest steel conglomerate of Vietnam. 
Covering an area of more than 283.7 hectares in the communes of Binh Dong and Binh Thuan, Binh Son district, the south-central province of Quang Ngai Province, the project has a designed annual capacity of 5.6 million tons, including 4.6 million tons of hot-rolled coil (HRC) and 1 million tons of steel bars and steel wire, and it is expected to create stable jobs for more than 12,000 people. 
About Vietcombank 
Joint Stock Commercial Bank for Foreign Trade of Vietnam, formerly known as Bank for Foreign trade of Vietnam, was established on April 01, 1963  from the Foreign Exchange Bureau (of the State Bank of Vietnam). Over 59 years of growth and development, it has become one of the 100 largest banks in Asia, one of the 300 world's largest financial and banking corporations, one of the 1,000 world's largest listed companies contributing to the development of Vietnam.