YKVN represents Masan in Alibaba & BPEA led investment into The Crown X, Vietnam's largest retailing company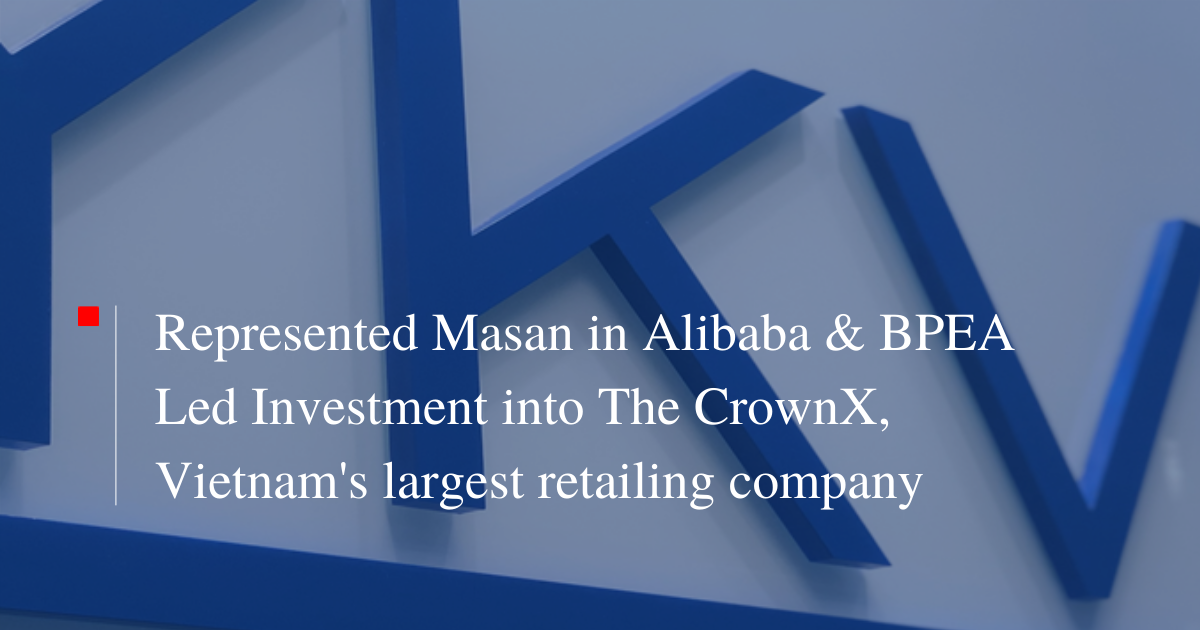 YKVN and Milbank continued their traditional collaboration to advise long-standing joint client Masan Group Corporation (HOSE: MSN, "Masan") in the sale of a 5.5% of stake in the CrownX Corporation (CrownX) to a consortium led by Alibaba Group ("Alibaba") and Baring Private Equity Asia ("BPEA").
Upon the investment, the CrownX will partner with Lazada to build its digital presence and capabilities and accelerate the offline to online ("O2O") market in Vietnam.
Prior to the sale of the 5.5% of stake in the CrownX, YKVN also collaborated with Milbank to represent Masan in another minority investment by SK Group into Masan's retail platform – the sale of 16.26% stake in Masan's consumer retail arm and food supply chain – VCM Services and Trading ("VCM") to SK Group.
About Masan Group Corporation
Masan Group is one of the largest private sector companies in Vietnam. The Company's principal lines of business include food and beverage, consumer-agri, financial services and natural resources and its portfolio includes Masan Consumer Holdings (MCH), Masan Nutri-Science (MNS), Masan Resources (MSR) and Techcombank (TCB).
About CrownX
The CrownX is a consumer-retail platform that currently consolidates Masan's interests in MCH and VCM. The company was established with the vision to become a "Point of Life" platform in order to provide more products and services to Vietnamese consumers online and offline.
About Alibaba Group
Alibaba Group's mission is to make it easy to do business anywhere. The company aims to build the future infrastructure of commerce. It envisions that its customers will meet, work and live at Alibaba, and that it will be a good company that lasts for 102 years.
About Baring Private Equity Asia
Baring Private Equity Asia (BPEA) is one of the largest private alternative investment firms in Asia, with assets under management of USD23 billion. BPEA manages a private equity investment program, sponsoring buyouts and providing growth capital to companies for expansion or acquisitions with a particular focus on the Asia Pacific region, as well as dedicated funds focused on private real estate and private credit. The firm has a 24-year history and over 200 employees located across offices in Hong Kong, China, India, Japan, Australia, Singapore, and the US.