YKVN Partner Luu Tien Dzung on ALB Asia top 15 litigators list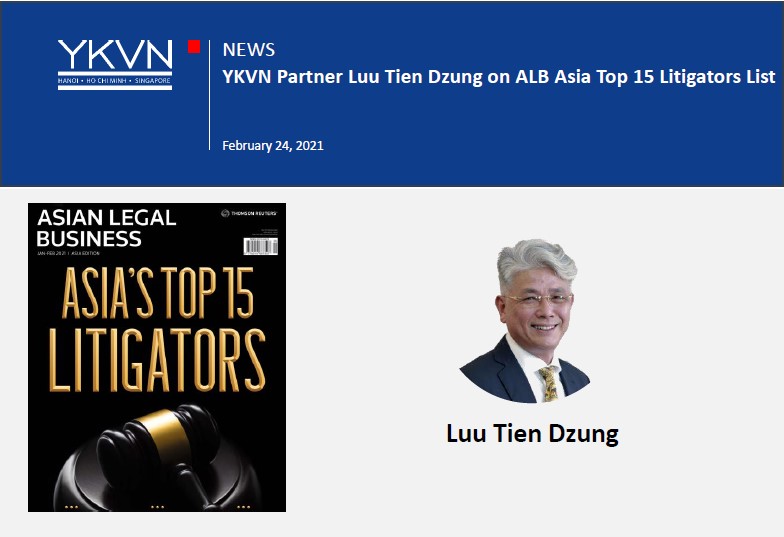 YKVN Litigation Co-chair Luu Tien Dzung has been recognized by ALB as one of Asia's Top 15 litigators.
Dzung is the only Vietnamese litigator on the list. This is a landmark moment for our dispute resolution practice and for the Vietnamese legal profession. https://ykvn-law.com/lawyers/luu-tien-dzung/
The ALB Asia Top 15 Litigators rankings aims to identify the fifteen stars of the courtroom who are known not just for their ability to take on complex cases, but also to devise innovative strategies to achieve the best possible outcomes for their clients.
About the Asia Legal Business Asia's 15 Top Litigators list
The following criteria were considered in the inaugural ALB Asia's Top 15 Litigators by ALB dedicated research team:
Significant cases handled in entire career | Significant cases handled in the last 12 months | Key clients | New clients | Significant accolades & third-party award or recognition | Client recommendations and comments | Comments from managing partner or colleague |Cases participated in and for which judgements were pronounced (From 1 Dec 2019 to 1 Dec 2020).
For more information, please contact:
YKVN Marketing Team
T: (+84-28) 3 822 3155
marketing@ykvn-law.com