YKVN wins three Benchmark Litigation Asia-Pacific Awards 2019
On September 19, 2019, YKVN was honored three times at the Benchmark Litigation Asia-Pacific Awards 2019 that took place in Hong Kong with the following awards:
National Law Firm of the Year 2019. YKVN has maintained this prestigious award for three consecutive years;
Lawyer of the Year: Luu Tien Dzung; and
Regional Matters of the Year
This is a significant milestone for our litigation practice, and once again reconfirms YKVN as one of the leading law firms in the field of dispute resolution in Vietnam.
Awards winners are selected through a comprehensive process of research and award submission analysis, extensive interviews with litigators, dispute resolution specialists, their clients and peer feedback to identify the best litigators and firms. This year, the awards celebrated the foremost leaders in 11 practice areas and 14 jurisdictions around the Asia Pacific-region.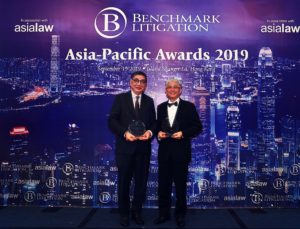 YKVN's Senior Partner of the Firm (and a member of the Management Committee), Minh Dang, and Partner Luu Tien Dzung receiving the Law Firm of the Year Award and Lawyer of the Year Award (picture by Benchmark Litigation)
For more information about YKVN's dispute resolution practice and how we can assist, please contact:
YKVN Marketing Team
T: (+84-28) 3 822 3155
[email protected]