YKVN bestowed "the Best M&A Advisor of the Year 2018-2019" award by Vietnam Investment Review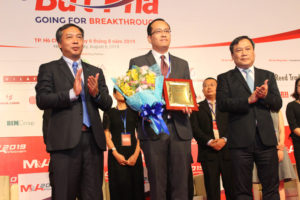 Deputy Minister of Planning and Investment Vu Dai Thang and VIR's editor-in-chief Le Trong Minh granted the award to YKVN's partner, Phan Vinh Nhan (Image by AVM Vietnam)
On August 6, 2019, YKVN was bestowed "the Best M&A Advisor of the Year 2018-2019" award.
The distinction confirms YKVN's achievements in complex and landmark M&A transactions in Vietnam over the past year, notably our role as lead counsel for Vingroup in USD 1 billion strategic partnership with SK Group (1st M&A deal 2018-2019 – Vietnam Investment Review).
This accolade is also a source of great pride for our teams and a mark of recognition of one of our firm's core expertise.
The award was given during the 11th edition of Vietnam M&A annual forum held by Vietnam Investment Review (VIR) and AVM Vietnam at GEM Center in Ho Chi Minh City. This is the biggest annual M&A and investment event in Vietnam.
For more information about YKVN's M&A practice and how we can assist, please contact:
YKVN Marketing Team
T: (+84-28) 3 822 3155
marketing@ykvn-law.com